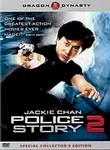 Police Story 2
Cast:

Director:
A gangster vows revenge on Inspector Chan (
Jackie Chan
, who also directs), now demoted to a traffic cop as a reprimand for his reckless actions in the line of duty. As the vendetta escalates, a new menace arises, and Chan must stop extortionists threatening public buildings. For Chan, the crisis becomes more explosive when his girlfriend, May (
Maggie Cheung
), gets caught in the bombers' crosshairs.