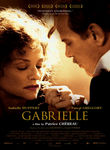 Set in turn-of-the-century Paris, director
Patrice Chereau
's emotionally charged drama (based on a Joseph Conrad short story) follows the unraveling of a seemingly happy bourgeois couple's marriage.
Pascal Greggory
plays the complacent, self-satisfied Jean Hervey, whose orderly world is shaken to the core when his suffocating wife, Gabrielle (
Isabelle Huppert
), leaves him for another man. The cast also includes Claudia Coli and
Chantal Neuwirth
.