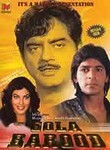 Gola Barood
Cast:

Director:
Police officer Vijay (
Chunky Pandey
) becomes embroiled in a robbery plot when he sets out to repay a debt he owes to a criminal (
Shatrughan Sinha
) in this tense thriller. Vijay's life is forever changed when truck driver Shambhu saves him from violent thugs. The years pass, and Shambhu becomes a criminal, while Vijay ends up a cop. When a powerful crime boss coerces Shambhu to commit a big heist, Vijay must save his friend from a terrible fate.