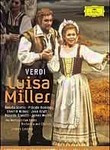 Verdi: Luisa Miller: The Metropolitan Opera, Orchestra and Chorus
Cast:

Renata Scotto, Plácido Domingo, Dale Caldwell, Bonaldo Giaiotti, Jean Kraft, Sherrill Milnes, James Morris, Ariel Bybee, David Stivender, James Levine

Director:
World-renowned soprano Renata Scotto and tenor Placido Domingo lead this 1979 production of composer Giuseppe Verdi's "Luisa Miller," performed by the Metropolitan Opera Orchestra and Chorus and conducted by James Levine. As the story goes, young Luisa (Scotto) falls in love with a villager named Carlo (Domingo). Little does she know, however, that Carlo is really Rodolfo, whose wealthy father expects him to marry another woman.