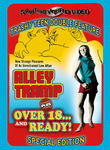 Alley Tramp / Over 18 ... and Ready
Cast:

Director:
This pair of scintillating skin flicks from directors
Herschell Gordon Lewis
and
Lloyd Allen
celebrate naughty sex in all its glory. In Alley Tramp, a teenage girl walks in on her parents "doing it" and kick-starts her own career as a furtive nymphomaniac with the help of her cousin. Then, in Over 18 ... and Ready, a girl who's barely legal has her heart set on fame. Little does she know that a sleazy producer's wife has her eyes set on
her
.