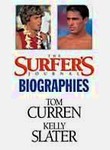 The Surfer's Journal: Biographies: Tom Curren and Kelly Slater
Cast:

Director:
The Surfer's Journal
magazine presents an installment of their Biographies video series featuring the life and times of legendary wave riders
Tom Curren
and
Kelly Slater
. In the 1980s, the shy Curren helped bring American surfing out from under the shadow of Australian and South African dominance. In the '90s, the media-savvy Slater brought surfing into a whole new era. Gain unique insight into these personalities that changed surfing forever.