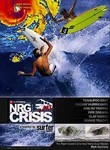 Synergy: Surf NRG: Vol. 13
Cast:

Director:
Surfin' U.S.A. no longer means just the West Coast: As this video so amply illustrates, some of the gnarliest wave action anywhere can be found on the country's right coast. Join the NRG crew as they pursue hurricane surf from the 2004 season; hit an all-time swell in South Florida; and pile into the RV for treks to New York and New Jersey.
Tom Curren
,
Kelly Slater
and
C.J. Hobgood
are just a few of the surfers along for the ride.