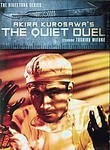 The Quiet Duel
Cast:

Director:
One of legendary director
Akira Kurosawa
's early works, this film follows the travails of Kyoji Fujisaki (
Toshiro Mifune
), a young doctor whose life is turned upside down when he contracts syphilis during a wartime surgery. Distancing himself from his fiancée, Fujisaki suffers in silence, shamed by what his life has become. When he encounters the man who infected him, the doctor forces him to take responsibility for the lives he's affected.