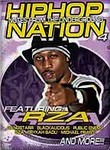 Hip Hop Nation: Vol. 4
Cast:

RZA, Blackalicious, Public Enemy, GZA, Erykah Badu, Michael Franti, The Roots, The Judah Brothers, Fat Killaz, Truck Turner, Johnny Blanco, Gangstarr, Crimewave

Director:
This fourth volume of footage from the Hip Hop Nation video magazine includes appearances and performances by
RZA
,
Gangstarr
,
Blackalicious
,
Public Enemy
,
GZA
,
Erykah Badu
and
Michael Franti
. Backed by a soulful soundtrack, your exclusive tour takes you to a mesmerizing underground world where you'll hear the latest studio sounds, crack up at cutting-edge comedy and learn the ropes of urban survival.