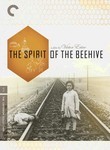 The Spirit of the Beehive
Cast:

Director:
In this mesmerizing allegorical tale set in post-Civil War Spain, precocious young Ana (
Ana Torrent
) becomes obsessed with finding the spirit of Frankenstein's monster after watching director James Whale's 1931 classic. When she happens upon a wounded military deserter, Ana believes that she's evoked the cinematic creature. Helmed by
Victor Erice
, the film also stars
Fernando Fernan Gomez
and
Teresa Gimpera
as Ana's disengaged parents.