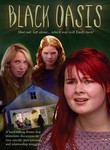 Black Oasis
Cast:

Director:
Despondent teen Emily (
Amber Wallace
) struggles to deal with her parents' divorce and the temptations she faces at school in this Christian-themed drama. Once a daddy's girl, Emily feels abandoned by her father (
Mark Oliver
), who now has a new wife and child. Left alone with her bitter mother (
Rhoda Griffis
), Emily finds herself torn between a lifelong pal (
Susanna Lewis
) and a new friend (
Mary Cobb
), who may have a destructive influence.