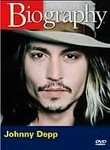 Johnny Depp: Biography
Cast:

Director:
After rocketing to idol status on the hit cop drama "21 Jump Street,"
Johnny Depp
could've capitalized on his looks and continued to play hunks and hotties. But, he surprised everyone by routinely taking unconventional roles that pushed the envelope. This installment of "Biography" explores the arc of Depp's remarkable career, including back-to-back Oscar nominations and his remaking of a cinema classic.