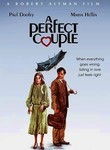 A Perfect Couple
Cast:

Robert Altman, Paul Dooley, Marta Heflin, Titos Vandis, Belita Moreno, Henry Gibson, Dimitra Arliss, Allan F. Nicholls, Ann Ryerson, Dennis Franz, Terry Wills

Director:
Robert Altman
helms this winning romantic comedy about an uptight bachelor (
Paul Dooley
) who tries his luck with a computer dating service. He gets matched up with his polar opposite -- a singer (
Marta Heflin
) who often gigs with her rock group "family" -- much to the chagrin of his domineering father (
Titos Vandis
). The antics of these dysfunctional characters make for a laughable, and relatable, experience.