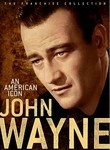 Seven Sinners / The Shepherd of the Hills
Cast:

John Wayne, Marlene Dietrich, Albert Dekker, Broderick Crawford, Anna Lee, Mischa Auer, Billy Gilbert, Richard Carle, Samuel S. Hinds, Oskar Homolka, Reginald Denny, Vince Barnett, Herbert Rawlinson, James Craig, William Bakewell, Betty Field, Harry Carey Sr., Beulah Bondi, James Barton, Marjorie Main, Ward Bond, Marc Lawrence, John Qualen, Fuzzy Knight, Tom Fadden, Olin Howland, Dorothy Adams

Director:
John Wayne learns to listen to his conscience in this 1940s double feature. Seven Sinners stars Wayne as a Navy officer smitten with a rabble-rousing chanteuse (Marlene Dietrich) who may be involved with a gangster, forcing Wayne to choose between his duty and pursuing the beautiful songbird. In The Shepherd of the Hills, Wayne plays a young moonshiner consumed with hatred for the father who abandoned him; Harry Carey and Beulah Bondi co-star.