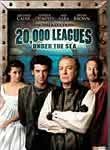 20,000 Leagues Under the Sea
Cast:

Director:
In this absorbing adaptation of Jules Verne's immortal novel, a mysterious creature is inexplicably destroying vessels at sea, so marine specialist Pierre Arronax (
Patrick Dempsey
) and whaler Ned Land (
Bryan Brown
) set out to discover the truth about the "monster" of the deep. They soon find themselves aboard the revolutionary submarine of reclusive Capt. Nemo (
Michael Caine
) -- and on a risky voyage to the ocean's depths.