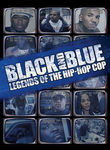 Black and Blue: Legends of the Hip-Hop Cop
Cast:

Director:
Despite their commercial success, award-winning hip-hop artists such as Jay-Z, Ja Rule,
50 Cent
, Snoop Dogg, Lil' Kim and Nas can't escape the prying eyes of the New York City police department, which reportedly watches every move they make. In this tell-all documentary program, retired NYPD Detective
Derrick Parker
unmasks the top secret rap unit created after the murder of Notorious B.I.G. and reveals a few of its surveillance secrets.