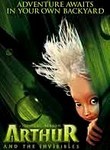 Arthur and the Invisibles
The writer and director of such futuristic thrillers as The Fifth Element and La Femme Nikita shows his softer side with this children's tale based on his book of the same name. When his grandmother's about to lose her home, young Arthur travels to a magical underground world to find some answers.
Madonna
,
Snoop Dogg
,
Mia Farrow
and
David Bowie
provide the voices for some of the tiny folk -- the Minimoys -- who live there.