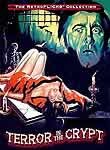 Graveyard Series 1: Terror in the Crypt
Cast:

Director:
Master of the macabre
Christopher Lee
and Jose Campos star in this operatic scare-fest about a creaky old mansion -- in the middle of nowhere -- with a life all its own. Anyone who dares enter through its doors soon discovers a warren of rooms, each concealing a frightening surprise. But some spaces have been obsessively tucked away, and for good reason: Death lurks there, waiting to claim its next victim.