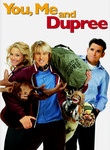 You, Me and Dupree
Cast:

Director:
After standing in as best man for his longtime friend Carl Petersen (
Matt Dillon
), Randy Dupree (
Owen Wilson
) loses his job, becomes a barfly and attaches himself to the newlywed couple almost permanently -- as their houseguest. But the longer Dupree camps out on their couch, the closer he gets to Carl's bride, Molly (
Kate Hudson
), leaving the frustrated groom wondering when his pal will be moving out.
Michael Douglas
co-stars as Molly's father.