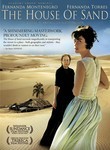 The House of Sand
Cast:

Director:
Andrucha Waddington
directs this epic drama that explores how daughters ultimately become their mothers. After following her parents to the wilds of northern Brazil, the pregnant Aurea (
Fernanda Montenegro
) yearns for the modernity of the city, but she can't bear to leave her mother (
Fernanda Torres
). Now, years after her mother's death, Aurea (now played by Torres) is having trouble reining in her own daughter (played by Montenegro).