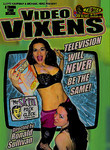 When a lusty television executive hatches a plan to stage an awards show honoring the world's best pornography, you can guess what happens next. Suffice it to say that this adult film star-studded extravaganza isn't so much about what's being worn on the red carpet -- it's about what's underneath the finery.
George "Buck" Flower
,
Marius Mazmanian
,
Robyn Hilton
,
Sandy Dempsey
and
Starlyn Simone
are among the celebs making nude appearances.