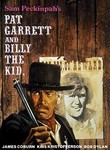 Pat Garrett and Billy the Kid
Cast:

James Coburn, Kris Kristofferson, Bob Dylan, Richard Jaeckel, Katy Jurado, Chill Wills, Jason Robards, R.G. Armstrong, Luke Askew, John Beck, Richard Bright, Matt Clark, Rita Coolidge, Jack Elam, Emilio Fernández, Paul Fix, L.Q. Jones, Slim Pickens, Jorge Russek, Charles Martin Smith, Harry Dean Stanton, Barry Sullivan, Claudia Bryar, John Davis Chandler, Rutanya Alda, Gene Evans, Donnie Fritts

Director:
Charged with the task of wiping the Old West clean and making way for a new one, reluctant Sheriff Pat Garrett (James Coburn) must betray his former cronies -- among them, Billy the Kid (Kris Kristofferson). But as the ways of the West die off, the characters find their own identities fading into history, too. Sam Peckinpah directs this landmark American Western, which features singer-songwriter Bob Dylan and legendary cowboy Slim Pickens.