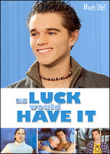 As Luck Would Have It
Cast:

Director:
When the courts appoint college professor Jean-Pierre (
Jean-Claude Brialy
) as the guardian of a hopelessly troubled teen (
Julien Bravo
), the teacher instantly fears that his carefully constructed yet precarious life will be turned upside down. That includes a seemingly happy marriage juggled with a homosexual lover (
Antonio Interlandi
). But the more he protests the ruling, the more suspicions are aroused, giving him some explaining to do.