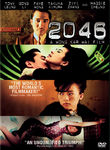 In this loose sequel to Hong Kong-based filmmaker Wong Kar-Wai's In the Mood for Love,
Tony Leung Chiu-Wai
returns as struggling writer Chow Mo-wan, but now he's a boozing womanizer who writes soft porn. Through time travel and parallel worlds, this lushly photographed romantic drama explores Mo-wan's relationships with various women, including the one he truly loves, Su Lizhen (
Gong Li
). 2046 premiered at the 2004 Cannes Film Festival.