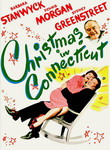 In this welcome addition to the canon of mandatory yuletide viewing,
Barbara Stanwyck
plays Elizabeth Lane, a magazine columnist who touts herself as a blissful wife, mother and expert homemaker living on an idyllic Connecticut farm. Trouble is, it's all a lie. When her pudgy publisher (
Sydney Greenstreet
) cooks up a scheme to boost circulation by having Elizabeth entertain a war veteran (
Dennis Morgan
) on Christmas Eve, will her charade unravel?