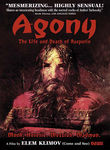 Agony: The Life and Death of Rasputin
Cast:

Director:
This depiction of Rasputin and his effect on the Russian ruling class doesn't skimp on decadence, violence and depravity.
Aleksei Petrenko
stars as the mad monk who became a confidant to Czar Nicholas II and helped push Russia into World War I. Banned in Russia for a decade for painting an unflattering portrait of the royal family, Agony has since been recognized as a powerful political drama.
Elem Klimov
directs.