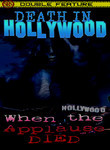 Death in Hollywood / When the Applause Died: Double Feature
Cast:

Kip King, Jim Morrison, John Belushi, Vic Morrow, Paul Durris, Marilyn Monroe, Steve McQueen, Jimi Hendrix, Janis Joplin, Lenny Bruce, Elvis Presley, Liberace

Director:
Tinseltown dreams go up in smoke for the celebrities featured in this sensational documentary double feature. "Death in Hollywood" shines the spotlight on the true stories behind some of Hollywood's most shocking celebrity deaths, from the absurd to the truly tragic. "When the Applause Died" digs into the lives of stars who had everything and lost it all. Featured celebrities include John Belushi, Jim Morrison, Lenny Bruce and Janis Joplin.