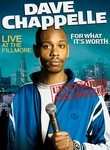 Dave Chappelle: For What It's Worth
Cast:

Director:
There's a reason funnyman
Dave Chappelle
has often been called a "comic genius," and this show taped at the Fillmore in San Francisco proves the edgy entertainer is utterly worthy of that designation. Chappelle pokes fun at celebrities most recently shoved into the limelight (and not for the usual reasons) -- including Michael Jackson and basketball star Kobe Bryant. Along the way, he also manages to skewer Disneyland denizens and drug addicts.