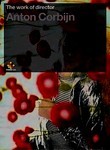 The Work of Director Anton Corbijn
Cast:

Anton Corbijn, U2, Depeche Mode, Kurt Cobain, Travis, Samantha Morton, Metallica, Dave Grohl, Propaganda, Beck, Joy Division

Director:
Dutch artist Anton Corbijn is known as much for the music videos he directs as his famous photographs. This collection gathers his best work in the former medium, including Propaganda's "Dr. Mabuse," Joy Division's "Atmosphere" and more. Also featured are Joni Mitchell and Peter Gabriel's "My Secret Place" and Depeche Mode's "It's No Good," as well as promotional trailers that aired on MTV with Beck and Dave Grohl, and an interview with U2.