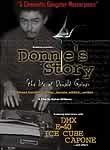 Donnie's Story: The Life of Donald Goines
Cast:

Director:
A heroin addict and career criminal who wrote his first novel in prison, Donald Goines shot to fame in the 1970s with the publication of
Whoreson
and other books depicting life on the gritty streets of Detroit. This raw documentary explores the tragic literary hero, whose books continue to be international best-sellers more than three decades after his violent murder. Includes interviews with
DMX
,
Ice Cube
,
Capone
and others inspired by Goines.