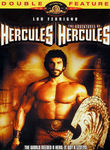 Hercules / The Adventures of Hercules
Cast:

Director:
Mythical muscleman Hercules (
Lou Ferrigno
) must rescue his true love and stop a band of rebellious gods from deposing Zeus in this fantastical double feature. In the first tale, Hercules battles monstrous foes when the evil Amazon Ariadne (
Sybil Danning
) kidnaps Hercules' fiancée, Princess Cassiopea (Ingrid Anderson). In the second tale, the almighty Zeus will lose his power to despot gods unless Hercules can recover his stolen thunderbolts.