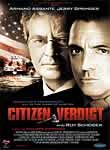 In a sly bit of typecasting,
Jerry Springer
plays Marty Rockman, a reality-TV producer who hits on an idea to try criminal cases on-air, with the audience acting as jury. If the convicted is sentenced to death, the execution will be televised. Down-on-his-luck lawyer Sam Patterson (
Armand Assante
) signs on as the show's defense attorney, only to discover that his client charged with murder may be innocent and that the trial's rigged for ratings.