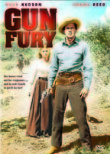 Gun Fury
Cast:

Rock Hudson, Donna Reed, Philip Carey, Roberta Haynes, Leo Gordon, Lee Marvin, Neville Brand, Ray Thomas, Robert Herron, Phil Rawlins, Forrest Lewis

Director:
Ben Warren (
Rock Hudson
) and his fiancée, Jennifer Ballard (
Donna Reed
), meet with trouble aboard their California-bound stagecoach when outlaw Frank Slayton (
Philip Carey
) and his gang pull a stickup, abduct Jennifer and leave Ben for dead. After recovering, Ben drafts two men looking to settle scores with Slayton, and the trio sets out to find Jennifer -- and justice. Director
Raoul Walsh
's gritty Western co-stars
Lee Marvin
and
Neville Brand
.