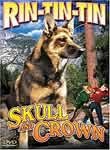 Rin-Tin-Tin: Skull and Crown
Cast:

Director:
After shooing away his sister's dog, Rinty, border patrolman Bob (
Regis Toomey
) quits his job and tries to infiltrate the gang of smugglers responsible for his sister's death. As Bob tries to win the criminals' trust, Rinty follows his new master, ready to help. This canine adventure also stars
Jack Mower
as lead bandit El Zorro,
John Elliott
as a resort owner being held hostage, and
Molly O'Day
as John's daughter.