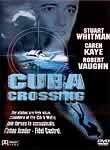 Cuba Crossing
Cast:

Director:
When the CIA and the mafia team up to kill Fidel Castro and break up a drug ring based in Cuba, they put the screws to Florida boat captain Tony (
Stuart Whitman
) to secure his help in running a team of operatives into the island country. But when Tony discovers that he's next on the hit list, he must find a way to get out and rescue his girl, whom the bad guys have taken hostage.
Chuck Workman
directs this thriller, which co-stars
Robert Vaughn
.