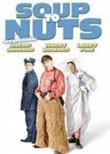 The Three Stooges: Soup to Nuts
Moe, Larry and Shemp star with their original right-hand man,
Ted Healy
, in this 1930 Rube Goldberg-penned film, which catapulted the Stooges to Hollywood stardom. When batty costume shop owner Schmidt is in danger of losing everything he's worked so hard for, his dedicated employee (Healy) calls in the fire brigade. But with "helpful" firefighters the likes of Larry, Moe and Shemp, it will be a miracle if Schmidt's shop remains standing.