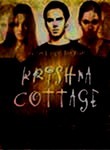 Krishna Cottage
Cast:

Director:
True love is put to the test when another woman comes between a pair of star-crossed young lovers in this thriller. College sweethearts Manav (
Sohail Khan
) and Shanti (
Natasha
) have a great relationship until Disha (
Isha Koppikar
) shows up and Manav is drawn to her. When Manav, Shanti, Disha and their friends are forced to seek shelter in Krishna Cottage, frightening events begin to occur that threaten to tear Manav and Shanti apart forever.