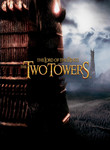 The Lord of the Rings: The Two Towers: Extended Edition
Cast:

Elijah Wood, Ian McKellen, Liv Tyler, Viggo Mortensen, Sean Astin, Cate Blanchett, John Rhys-Davies, Bernard Hill, Christopher Lee, Billy Boyd, Dominic Monaghan, Orlando Bloom, Hugo Weaving, Miranda Otto, David Wenham, Brad Dourif, Karl Urban, Sean Bean, Andy Serkis, Craig Parker

Director:
This second entry in director Peter Jackson's epic trilogy follows hobbits Frodo (Elijah Wood) and Sam (Sean Astin) on their trek toward the frightful land of Mordor, while vile sorcerer Saruman (Christopher Lee) and his odious Orcs conduct war against Middle Earth's populace. Elsewhere, Pippin (Billy Boyd) and Merry (Dominic Monaghan) find some new allies. The film's sterling ensemble cast also includes Viggo Mortensen and Ian McKellen.