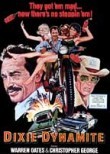 Dixie Dynamite
Cast:

Director:
When the crooked town sheriff (
Christopher George
) guns down their moonshine-making father, sisters Dixie (
Jane Anne Johnstone
) and Patsy (
Kathy McHaley
) go on the warpath against the law and anyone else who stands in their way in this B-movie revenge thriller. Now with the help of hard-drinking motorcycle man Mack (
Warren Oates
), the girls unleash their fury with guns, explosives and anything else they can get their hands on.
Lee Frost
directs.