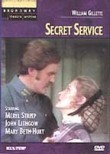 Secret Service
Cast:

Director:
In this televised production of William Gillette's 1895 play about the Civil War,
John Lithgow
portrays a Union spy who attempts to take control of the Richmond, Va., telegraph office by posing as an injured Confederate soldier.
Meryl Streep
plays the lovely local girl whom a suspicious Southern agent (also her ex-suitor) uses to trap the spy.
Mary Beth Hurt
and Jeffrey Jones co-star.