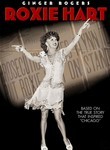 Ambition trumps murder in this satire based on the play "Chicago."
Ginger Rogers
stars as feisty Roxie Hart, who's so thirsty for notoriety she doesn't care that she's accused of a heinous crime. Tabloid reporters fall at her feet for every bit of seamy gossip, which Roxie happily supplies to remain in the limelight. Even her lawyer (
Adolphe Menjou
) sees her case as a shortcut to fame, but things turn grim when it seems Roxie may be convicted.