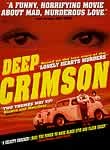 Based on a real-life crime by the so-called "Lonely Hearts Killers" that rocked the nation,
Arturo Ripstein
's chilling film stars
Regina Orozco
as a lonely, homely nurse who'll do anything for the man she loves. In this case, the object of her affection is a vagrant with a fleeting resemblance to entertainer Charles Boyer. In a fit of passion, she commits her life to him, joining him on a murderous spree targeting rich and unsuspecting widows.