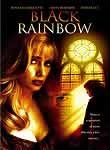 Black Rainbow
Cast:

Rosanna Arquette, Jason Robards, Tom Hulce, Mark Joy, Ron Rosenthal, John Bennes, Linda Pierce, Olek Krupa, Marty Terry, Ed L. Grady, Jon Thompson

Director:
Mike Hodge directs this chilling supernatural tale about a medium who foresees a violent crime. Martha Travis (
Rosanna Arquette
) travels the Bible Belt circuit with her father (
Jason Robards
), speaking to audiences about the afterlife and helping them communicate with loved ones both dead and alive. Newspaper reporter Gary Wallace (
Tom Hulce
) is convinced Martha's a fake … until she accurately describes a series of murders before they occur.