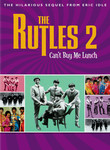 The Rutles 2: Can't Buy Me Lunch
Cast:

Eric Idle, David Bowie, Billy Connolly, Mick Jagger, Steve Martin, Mike Nichols, Conan O'Brien, Tom Hanks, Jimmy Fallon, Bill Murray, Bonnie Raitt, Jewel, Neil Innes, Ricky Fataar, John Halsey

Director:
The Rutles -- a Beatles wanna-be band from Liverpool, the same English town that the Fab Four called home -- are once again the subject of a pseudo-documentary by nerdy TV reporter S.J. Krammerhead (Eric Idle) in this hilarious sequel. Visit with vocalist Ron Nasty (Neil Innes), guitarist Stig O'Hara (Ricky Fataar), bassist Dirk McQuickley (Idle) and drummer Barry Womble (John Halsey) as they recall their journey to the top.