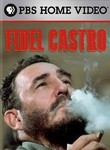 Fidel Castro: American Experience
Cast:

Director:
Cuban leader
Fidel Castro
's life is chronicled in fascinating detail in this documentary, narrated by actor
David Ogden Stiers
, which charts Castro's rise from outspoken soldier to political icon who leads his nation through changing times. Powerful and puzzling, Castro remains a mystery decades after his first face-off against the American government. Outliving his foes, he's beloved by some in his native country but feared by many more.