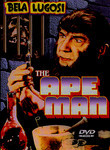 The Ape Man
Cast:

Director:
While experimenting on his own body with spinal fluid from a gorilla, Dr. James Brewster (
Bela Lugosi
) accidentally turns himself into a hairy ape-man. The only way for Brewster to return to normal is to capture a human and extract spinal fluid from its body. With the help of his gorilla sidekick (
Emil Van Horn
), the deformed Brewster begins hunting for donors, which quickly creates panic on the streets.