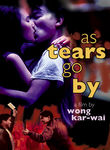 As Tears Go By
Cast:

Director:
Hong Kong gangster Ah Wah (
Andy Lau
) does all he can to keep his friend and fellow mobster Fly (
Jackie Cheung
) out of trouble, but Fly continues to wind up in hot water. Ah Wah's crime boss has had about as much as he can stand of Fly, but Ah Wah continues to stand by his friend. To complicate matters, Ah Wah begins to fall for his cousin (
Maggie Cheung
) but can't find the time to start a relationship and keep Fly out of trouble at the same time.