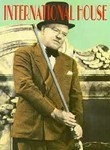 W.C. Fields Comedy Collection: International House
A delightful potpourri of 1930s film icons (led by
W.C. Fields
) parade through this wacky comedy in which a mélange of characters converge on an opulent Asian hotel to place bids on a new invention called the radioscope, an early form of television.
George Burns
and
Gracie Allen
are perfect foils for Fields, and
Bela Lugosi
-- in a rare comic role -- plays a sly Russian who stirs up trouble. Crooner
Cab Calloway
sings the memorable "Reefer Man."