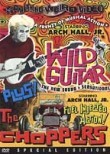 Wild Guitar / The Choppers: Double Feature
Cast:

Director:
Teen actor and musician
Arch Hall Jr.
stars in this duo of campy cult classics produced by his father, Arch Hall Sr. In Wild Guitar, country singer Bud Eagle (Hall) arrives in Hollywood and quickly hits the big time -- but soon finds himself exploited by his shady manager. Then, in The Choppers, Hall leads a group of juvenile delinquents as they steal cars and sell the parts -- until a clever insurance agent catches on to their scheme.