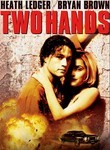 Two Hands
Cast:

Bryan Brown, David Field, Heath Ledger, Rose Byrne, Tom Long, Susie Porter, Tony Forrow, Steve Vidler, Dale Kalnins, Kiri Paramore, William Drury

Director:
Strip club promoter Jimmy (
Heath Ledger
) lands in dangerous waters after botching a routine job for a gangster in this Aussie crime thriller tinged with inky comedy. Things go awry when street kids rip off the $10,000 Jimmy is supposed to deliver for stony mobster Pando (
Bryan Brown
). Desperate to recoup the loot, Jimmy finds himself involved in a bank heist scheme -- and with an ethereal country lass (
Rose Byrne
) who exhorts him to go straight.